Pork Belly Burnt Ends (from Geri Hochgatterer's new recipe book)
Just take a look at this fantastic recipe from Geri Hochgatterer's (Cooklounge BBQ) new book.
Perfect for cooking in one of our Monolith Kamado ovens - I can't wait to try it.
Pork Belly Burnt Ends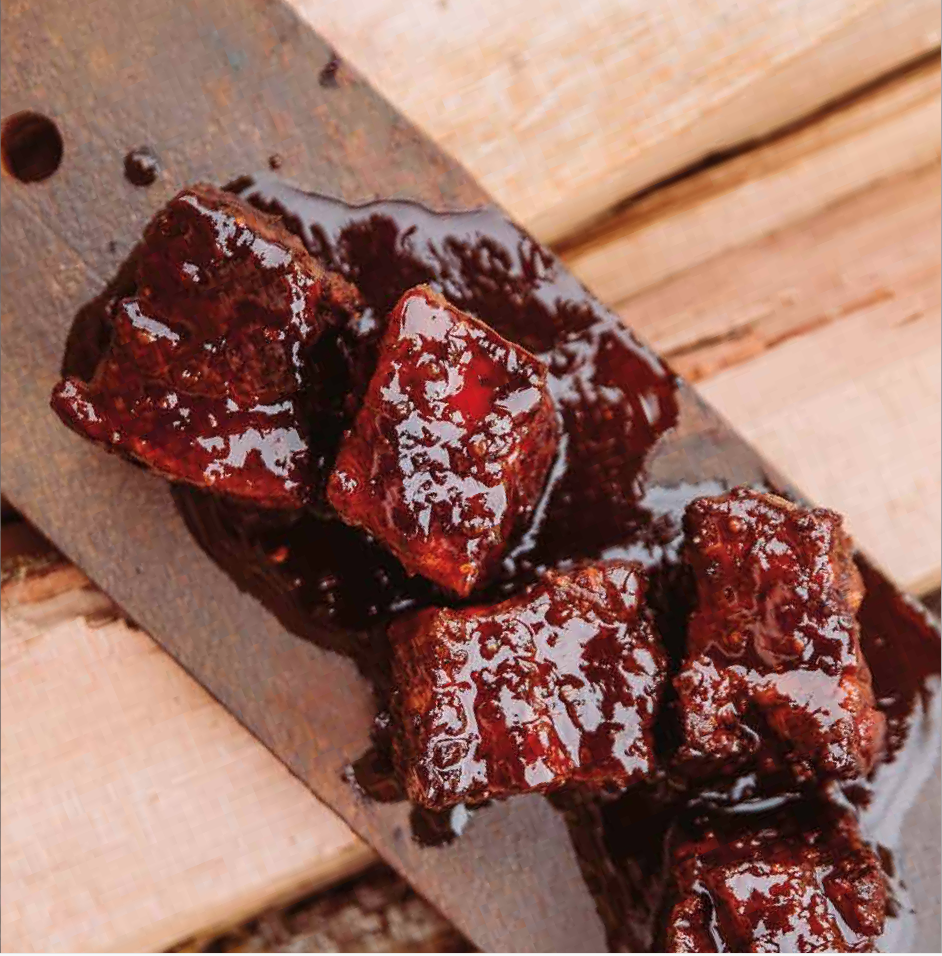 Ingredients
1 kg pork belly
200g Pork-Rub (see above)
50 ml Honey
4 tbsp soy sauce
1L apple juice
1 tbsp balsamic vinegar,
40ml dark brown rum
For the Pork Rub
2 tbsp Salt fine
3 tbsp Sweet paprika
1 tbsp Garlic powder
1 tsp Szechuan pepper
1 tsp Cayenne pepper
2 tbsp Cane sugar
1/2 tbsp Pink peppercorns
1 tbsp Cumin
1 tbsp Cinnamon
1 tbsp Dried thyme
1 tbsp Dried Basil
1 tbsp Coriander
1 tbsp Dried onion powder
Method (for the Pork Rub)
Put all the spices, except the salt and sugar, into a mortar and grind finely. This works best if you start by mixing the coarse spices, then gradually mix everything together. Finally, mix in the salt and cane sugar. The rub keeps its taste best in mason jars. Store in the cool and dry and out of the sun, otherwise the spices will change colour quickly.
Method (for the Pork Belly Burnt Ends)
Remove the rind from the pork belly and cut into cubes approx. 3 x 3 cm.
Mix the apple juice, soy sauce and balsamic vinegar in a bowl and put the pork cubes in for about 4 hours. Then rub with the pork rub and leave in a sealed container to marinate in the fridge for 12 hours.
Remove the meat from the refrigerator 1 hour before grilling. Preheat the grill to 110 ° C with indirect heat and smoke the meat for 2 hours. Use 2–3 wood smoke pellets such as beech, cherry or hickory to smoke.
Place the burnt ends in a heat-resistant bowl after smoking, mix with honey and rum and then smoke indirectly at 110 ° C for another hour. Then glaze the meat with the sauce and raise the temperature to approx. 150 ° C so that the sugar caramelises. Some liquid will remain in the bowl once cooked, so roll the burnt ends really well in the juices and serve.